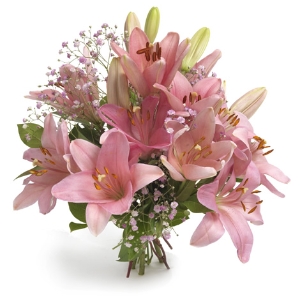 Reviews of
recipients
of this bouquet:





rating
8.4
(9 reviews)
100%
of those recipients will advise Regiobloemist to their friends.
Great pink lilies
Product information: Great pink lilies
Product description:
Great pink lilies processed into a beautiful bouquet made. The lily is associated with many lofty meanings: virginity, peace, fertility, purity, spiritual love, innocence, impermanence, royal, purity.
Handmade and personally delivered by the florist.
Prices:
Our prices include 6% VAT and are excluding only € 8,00 delivery-, handling- and paymentcosts. If you choose to pay by invoice, a small insurance fee is added..
Product of nature:
Flowers are a natural product. Deviations are possible.